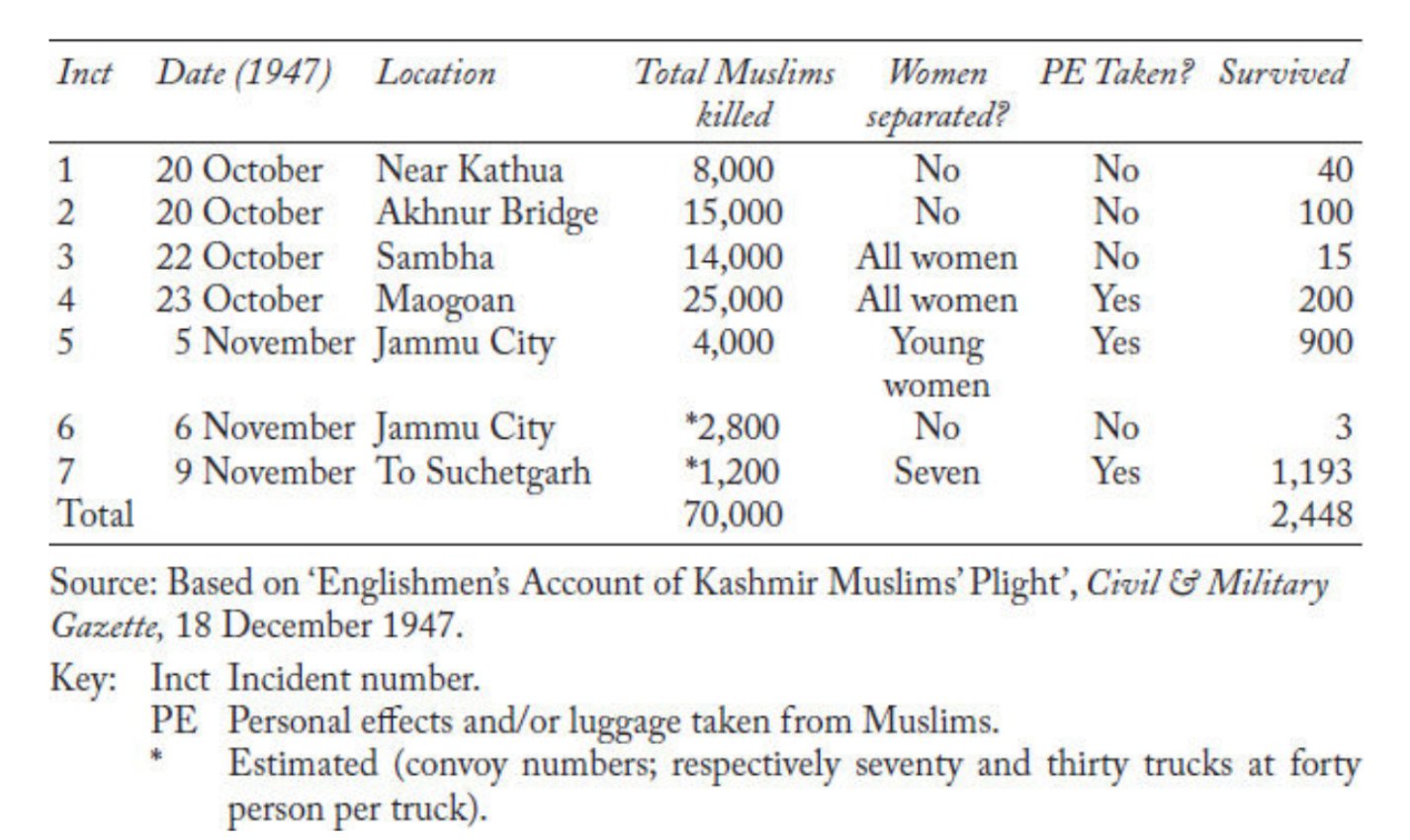 The massacre of Muslims of Jammu City 5, November 1947
Here is a factual report jointly submitted by two foreigners who visited the subcontinent and were commissioned for this purpose by the Governments of India and Pakistan:—
"On the morning of November 5, it was announced by beat of drum in Jammu city, in the name of His Highness the Maharaja, that all Muslims must immediately leave the State and that, in fact, Pakistan had asked for them. They were instructed to assemble at the parade ground in Jammu. Conducted from there to the police lines, they were searched, deprived of most of their belongings and loaded on motor lorry convoys. They were told they would be sent to Suchetgarh but instead the convoys took the Kathua Road and halted at Mawa, where the passengers were told to get down."
"At Mawa, the lorry drivers, who were Sikhs and armed to the teeth, removed all the young women from the convoys and began to attack the remainder. The Kashmir State troops looked on indifferently while the mobs of Sikhs and Hindus were killing the Muslims.
"Out of the four thousand Muslims, who had left Jammu, only nine hundred managed to reach Sialkot, in Pakistan.
The massacre of Muslims of Jammu City 6, November 1947
"A convoy of seventy trucks, containing most of the respectable Muslim families of Jammu city left for Suchetgarh on November 6. A few miles out of the city, the trucks were halted and were attacked by armed jathas of Sikhs and State troops and volunteers of the Rashtrya Swayam Sewak Sangh.
Masacre at Maogaon Oct, 23rd 1947
"On the instructions of the State Government, about twenty-five thousand Muslims from Miran Sahib area collected at Maogaon to be evacuated to Pakistan. But as they were doing so, their women and all their personal belongings were taken away from them by Dogra troops, and the rest made to stand in a line, whereupon they were riddled with machine-gun bullets. Only one hundred of them escaped, hiding in maize fields."
Kashmiris fight for freedom Vol I & II by Muhammad Yusuf Saraf
Before the Maharaja's arrival:
A convoy of Muslim refugees which had come from the interior of Kathua and had swelled into numbers while advancing towards the borders reached there. The army compelled them to pass through the Hindu mob; on reaching there, one of the officers ordered the mob to "send them to Pakistan". Upon this, the Dogra soldiers and armed goondas attacked them amidst the Dogra war cry of 'Maharaja Bahadur Ki Jail. It is claimed that not many were able to escape alive. On the next day, the Maharaja and the Prime Minister visited the town and congratulated their followers for their "performance".
Another convoy of nearly twelve thousand Muslims left Kathua for Pakistan after their failure to secure protection. Two miles from Pakistan border at village Khasyal a mob comprising Dogra soldiers and Sanghis fell upon them with rifles and swords. Similarly, a convoy of two thousand Muslims which left village Bandore was attacked at Chhati Khoi, about three miles from the Pakistan border. A convoy of about 7000 Muslims left Chani Rodoon for Pakistan; it was attacked at Heera Nagar.
A convoy of 500 Muslims:
A convoy had left Kohatah, none of whom is claimed to have been able to enter Pakistan. A convoy of 3000 Muslims from Budhi and Tala Mola which left for Pakistan, was attacked at Mahi Chak. A convoy of about six thousand Muslims left Nagri, Runb and Chhatta villages for Pakistan, but was attacked at Khikhiyan. Muslims from villages Sallni, Hiranagar, Candi etc. gathered at Hiranagar and left for Pakistan. They were stopped by the army at some distance and told to hand over their cash and ornaments in exchange for a guarantee to be escorted to Pakistan borders. After receiving a large number of ornaments and cash, the convoy was allowed to proceed and an escort was also provided, but when they reached Chhati Khoi, a soldier opened fire and instantly Sanghis who had already taken positions before their arrival as they seemed to have been briefed in advance, attacked the convoy. These goondas also had a brengun. A convoy of two thousand Muslims from Rajpura and Kagowal left for Pakistan, but was attacked in the way. In Samba town, about ten thousand Muslims from the town and its suburbs collected for migration to Pakistan. Most of the male were invited to the town- pond on the pretext of forming a Peace Committee, but there they were surrounded by armed bands and in their absence, young girls from their homes were abducted. There is no doubt that a large number of Muslims, men, women and children were killed each time.
Kashmiris fight for freedom Vol I & II by Muhammad Yusuf Saraf
Ramnagar Tehsil (District Udhampur):
This place is 25 miles from Udhampur and its boundaries meet Sambha and Kathua tehsils. The depredations were started in the Paimasta illaqa. Th. Chander Uhdey Singh was appointed tehsildar and Darshan Singh Sub Inspector put in charge of thana. Rugnath Singh, Retd. tehsildar was permanently staying thereto direct the activities of the Sangh in collaboration with MankameshwarVakil and Ram Chand Shah. Twice they made false reports that thousands of Muslims were collecting in the illaqa and that breach of peace was apprehended. They also made false reports against the Basantgarh Muslims. The tehsildar being related to the Maharani proudly informed her that not a sin$le Muslim could now be found in his illaqa.
Thakar Dhaneter Singh, M.L.A. formed a gang and advanced towards Bhadarwah but did not succeed in this area although he was responsible for the murder of a large number of Muslims in the Ramnagar tehsil. The Raja of Ramkot was specially summoned to Jammu and given instructions to start genocide in his illaqa.
One of the most compelling interviews conducted in Sialkot was with Hussein Gujrar, who migrated from Ram Nagar to Sialkot in October 1947. He was 18 at the time and now is a resident of Tarowali mohalla of Sialkot. He still remembers the events of that period vividly when all the members of his family was massacred. He recalls:
"I was about 18 years old at time. One night, the Dogra troopers attacked our home and killed my parents, sister and two younger brothers. Luckily, I was not at home that night so remained safe. The next morning when I reached home I saw everywhere bodies and blood. They [the army of the Maharajah] looted everything from the home... I walked from Jammu to Sialkot carrying just one handbag."
Kashmiris fight for freedom Vol I & II by Muhammad Yusuf Saraf
Massacres of Sambha
Early October 1947:
About 14,000 Muslims living in Sambha were besieged by armed Hindus and Sikhs, who cut off the rations and watersupply of the villages.
On October 23:
Sambha village was visited by His Highness the Maharaja himself, and almost immediately after his visit, all the Muslim women in the village were taken away by State troops, and the men were slaughtered with the exception of fifteen survivors, who escaped to Sialkot. About eight thousand Muslims assembled at the Bulla Tank near Kathua on October 20, after their request for protection had been ignored by the sub-divisional magistrate of Kathua.
After marching three miles towards the Pakistan border, they were encircled by Dogra troops and armed Sikh civilians, and all of them were slaughtered with the exception of forty persons, who managed to escape to Sialkot.
The words of the Second master of the Samba High School who was one of the passengers: "Among them were my old parents, three brothers, two sons and two daughters. The trucks started at 2 p.m. At Satwari Cantonment we found Hindus and Sikhs assembled on both sides of the road and armed to the teeth. Muslims got extremely worried and each one of us thought that we were no longer safe. Some youth tried to save themselves by jumping down from the trucks but where could they go? They were killed on the spot. The drivers then diverted the trucks towards Kathua road and accelerated the speed. It was time for evening prayers when four trucks were stopped near the town of Samba. As soon as we came down, we were surrounded and taken to a ground where we were made to sit. First of all, women were separated from us. On two sides of the ground stood a hill, on the third side were the trucks, while only one side was open, but on this side we found soldiers with fixed machine-guns; so there was no side left for us to run away. The assailants had been divided into six or seven groups.
Those who had surrounded us were armed with rifles, spears, swords and birchas. Those who snatched away ornaments, money, beddings and other property, consisted mostly of Ahhuts; a third group was taking possession of women and in overall charge were officers who issued orders. The Satanic arrangements were so complete and the workers so trained which left no doubt that they had been trained over a considerable period of time. The victims were then removed to the butchery in a group of six persons each. I put off my shoes and ran away and though fired at, was able to save my life but my old parents, brothers, sons and daughters who had boarded the trucks with myself, I have not heard of them since then."
Kashmiris fight for freedom Vol I & II by Muhammad Yusuf Saraf
Massacre at Akhnoor bridge Oct, 20th 1947
On 20th Oct, about 15000 Muslims from Akhnoor and its adjoining areas on being forced to leave for Pakistan gathered in the vicinity of the town and were led towards the Akhnoor bridge where Dogra soldiers opened fire killing a large number. It is claimed that the killing was so extensive that blood actually flowed on the bridge. On the same day, several attacks were launched on Muslims in Kathua district resulting in considerable deaths. According to the Civil & Military Gazette, women & children were not separated they were also killed, only 100 survived.
Kashmiris fight for freedom Vol I & II by Muhammad Yusuf Saraf
Udhampur Tehsil District Headquarters
A vigorous drive was going on here for the organisation of the Sangh Dev Raj Dogra, Tehsildar. Lachman Dass former Superintendent of Police and Chaman Lal, S.1. were the official organisers of the camps etc. and Ohera Mai, Jagan Nath, Amar Nath Sharma and Om Prakash, its leaders. Hari Ram Vaid and Bawa Ravi Nath were the main figures who were preparing the ground for this bloody drama. Ram Singh, Tehsildar and Om Parakash, Naib Tehsildar's posting gave them further strength.
On 23rd October, the Sangh party along with a Militia company left for Udhampur and on their way, detailed different parties in different directions. The advance party reached Udhampur the same day. People from the neighbouring illaqas naturally gathered in the Udhampur town and occupied the houses of Col: Abdur Rehman who held for three days when the Hindus sent a "peace mission" and succeeded in getting them out. Cot. Abdur Rehman and Sub Noor Muhammad who suffered sword injuries, succeeded in escaping alive. Male members were brutally murdered and children were killed before the very eyes of their mothers. The flesh and blood was then cooked with rice and mothers were forced to eat the same. Some Muslims viz. the Chandals and Badhans from Hartaryan and Gangera. Ghulam Muhammad barber of Udhampur and several others were forcibly converted to Hinduism.
The whole of Katra Waziran was reduced to ashes. The house of Col: Abdur Rehman was smashed with mortar firing. Col. Dherak Ram and Col. Kirpal Singh were in charge of this firing party.Young girls were abducted and most of them were removed to India. Muslim employees of the P.W.D. were killed by the Hindu staff including the D.E. and the Assistant Engineer. 18 police employees were killed in the thana. Raja Sarwar Khan, S.D.M. was also shot dead.
At Batote, Nikka Singh, Thakkar Dass of Pirhi, Dhani Ram Shah. shopkeeper, Ruldu Zaildar Tringla, Ch. Nathu and Amir Chand Baigra were the main culprits. Ghulam Ghaus, Assistant Inspector, Customs was forcibly converted along with his family. Karam Elahi constable's family was killed in the police Station and Nizam Din, tailor and his son Ghulam Nabi were shot dead in the bazar. The house of Hassan Din was burnt and houses of the rest of Muslims were robbed away.
Kashmiris fight for freedom Vol I & II by Muhammad Yusuf Saraf
Destruction in Reasi
Reasi is 45 miles from Jammu. Chenab flows on three sides of the town. The left bank illaqa of the tehsil has a Hindu majority and Katra is a well-known town at the foot of the Vaishnu Devi hill. Reasi. Katra. Manthal and Tikri had been the main centres of Sangh activities. Kali DW, Rikhi sh, shubh Dutt, Dina Nath, retired Ranger, Shambu Nath son of Gana Ram, Minister, were its main pillars at Katra. Govardhan Singh, Wazir-1- Wazarat, Jia Lal Darbari A.S.P. and Manohar Lal S.I. Police played an active role in organising a militia company headed by Capt. Kishan Singh, Capt. Omkar Singh of Bijepur and retired Zaildar of Biddha. The Sangh at Katra was assisted by the party of lnder Singh Namdar of the Militia company. Reasi sustained the highest percentage of ~OSS of life. The illaqa towards the right bank of the Chenab was somehow saved because Muslims received timely information and the Arnas people ran up towards the Gool side, some of whom made their way towards Rajauri and then to Pakistan and some slipped away towards the adjoining Kashmir territory. All the Government employees were killed. Permanand Naib tehsildar Arnas (Gool) was instrumental in blocking the roads leading to Gool. Pauni town was also raided and the Sanghis went up to Paurakotla.
On 4th November, 1947, a lorry load of Dogra troops from Jammu alighted near a nullah about one and a half mile from Reasi town. Some Muslim passers-by brought the information to the town. The news was disquieting because it was already known that the Dogra army was engaged in the killing of Muslims in other areas. A Peace Committee consisting of Hindus and Muslims had been set up a few days earlier to maintain what was termed as "communal harmony". So, Khawaja Amkalla, Rais and Khawaja Aziz Din, better known as Chaudhri Aziz Din, the most respected leaders of their community in the town, went to the residence of the Sub Divisional Magistrate, Thakar Govardan Singh, a Dogra, to enquire as to why had the Army been sent for, when a Peace Committee was already working effectively and no untoward incident had taken place. As soon as the two elders entered the main gate of the Magistrate's residence, their heads were most brutally chopped off. The news spread panic in the town. At 2.30 P.M. the Dogra troops who had, meanwhile, taken up positions in Hindu houses. started indiscriminate firing. Most of the Muslims thereupon took refuge in the Haveli of Mian Nizam-ud-Din. Sultan Muzaffar-ud-Din, Sub-Judge, who went to see them was killed by R.S.S volunteers. It was a signal for a general attack by the Sanghis led by the Dogra garrison. This happened on the 5th and continued up to the 6th of November. Many Muslims including women and children were killed and young Muslim women abducted. Some Muslims were taken to the Court premises - the place where Maharaja Pratap Singh was born and where a plaque had been installed to commemorate the event. Most of them were killed over there. The daughter-in-law of Maulvi Ghulam Haider Khan, father-in-law of Mr. Abdul Aziz Salehria, later Director Education, Azad Kashmir, was found murdered in her house along with her dead infant child, lying on her breast. Khawaja Ghulam Ali. P.S.1. who belonged to Bhadarwah and was posted here, succeeded in escaping from the clutches of the murderous gangs and reached the Police Station, only to be handed back by his colleagues and subordinates to the R.S.S. goondas, who killed him by inches by cutting a limb and after enjoying the spectacle of his pain and agony for some time, then proseeded to chop off another limb and so on. According to Malik Abdur Rashid, a resident of the town, and Director Village Aid Azad Kashmir who furnished these facts to me, about three to four thousand Muslims were killed in the district. Thakar Govardan Singh was later arrested under orders of Sheikh Muhammad Abdullah and put in Jammu Jail. It is not known what happened to him later. He was the son-in-law of General Janak Singh.
Rajauri is about 70 miles from Reasi. The Hindus who were mostly money-lenders had removed most of their valuables. This being a Muslim majority area, the Government had already detailed a company to Rajauri proper. With the start of the genocide, one more company was sent from Reasi to first "clear" the Pauni Bharakh illaqa and, after passing through Dharamsal Sialsui, reach Rajauri but it was through sheer good-luck that the Wazir ordered them to proceed to Arnas in Gool illaqa and it was after the fall of Rajauri that the mistake came to light. The tehsildar, Harjilal, ran away to Jammu along with some military personnel. Things would have been quite bad if the above reinforcement had arrived there.
Kashmiris fight for freedom Vol I & II by Muhammad Yusuf Saraf
Reasi Massacre testimony

Men, women, children were killed in the cruelest manner, maimed, intimidated. The carnage continued for several days. I lost my father, brothers, sisters, wife, and a son.

I lost all my dears; the genocide has haunted me all my life," he said. On 4 November 1947, when Dogra troops entered Reasi, two highly esteemed citizens of the town, Khwaja Amkullah and Chaudhary Aziz-u-Din rushed to the office of then Deputy Commissioner Thakur Gavinder Singh, complaining against the entry of the troops when Peace Committees, comprising Hindus and Muslims, were already in place to maintain peace. Both of them were shot dead in the office.

People were mowed down with machine guns and swords during the night. And those who had survived were assembled in a field where they were put to death. Some women who escaped jumped into Chinab river to save their honour.

Khwaja Ali Muhammad of Bhadarwah who was performing his duties as a public prosecutor at Reasi went to a police station to save his life, but the duty officer, a Dogra, handed him over to the RSS men. They dragged him out and tortured him so much that he begged them to kill him than torture him. But the barbarians cut his fingers one by one and told him 'we will send your fingers to Pakistan'. He was killed near the court premises in broad day light."

Rashid said Maharaja Hari Singh orchestrated the carnage to eliminate Muslims from Jammu. "Muslims were not even allowed to have weapons for self defense, but Maharaja distributed arms to the marauders of his community," he said, adding the killers were trained and armed in RSS camps for the genocide.